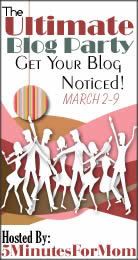 I've noticed this loads of places, including, of course,
5 Minutes For Mom
.
It officially starts on the 2nd of March, and just seems to me to be a great way to 'meet' new people and read some new blogs. And... there are gonna be some fab
prizes
too. I'm not sure I'm doing this justice, so follow the links and check it out for yourself!